GA/Proposals/Update Video Capabilities
Jump to navigation
Jump to search

Tech proposal. For streaming high quality event video from different cities.
A great little guide about live streaming that I wanted to post: https://plus.google.com/105006381068870463173/posts/YhxqTfMBhKW
The Problem:
The purpose of this is not to denigrate the effort and dedication of the team working to open up streams. None of the major cable networks carried the raid on the Greenway live. Hundreds of police and protesters in a major US city and I'm pretty sure the only images being streamed out of the park were from a macbook webcam and some cellphones. For the 10,000+ watching on Global Revolution and Occupy Boston Livestream we had a dramatic overhead. Pretty good for what was probably a VGA(640x480) resolution macbook webcam. Viewers could make out the park, some tents, vehicles on the street and flash bulbs going off) but this was far from the fullstory. Is there a better way and is this important enough?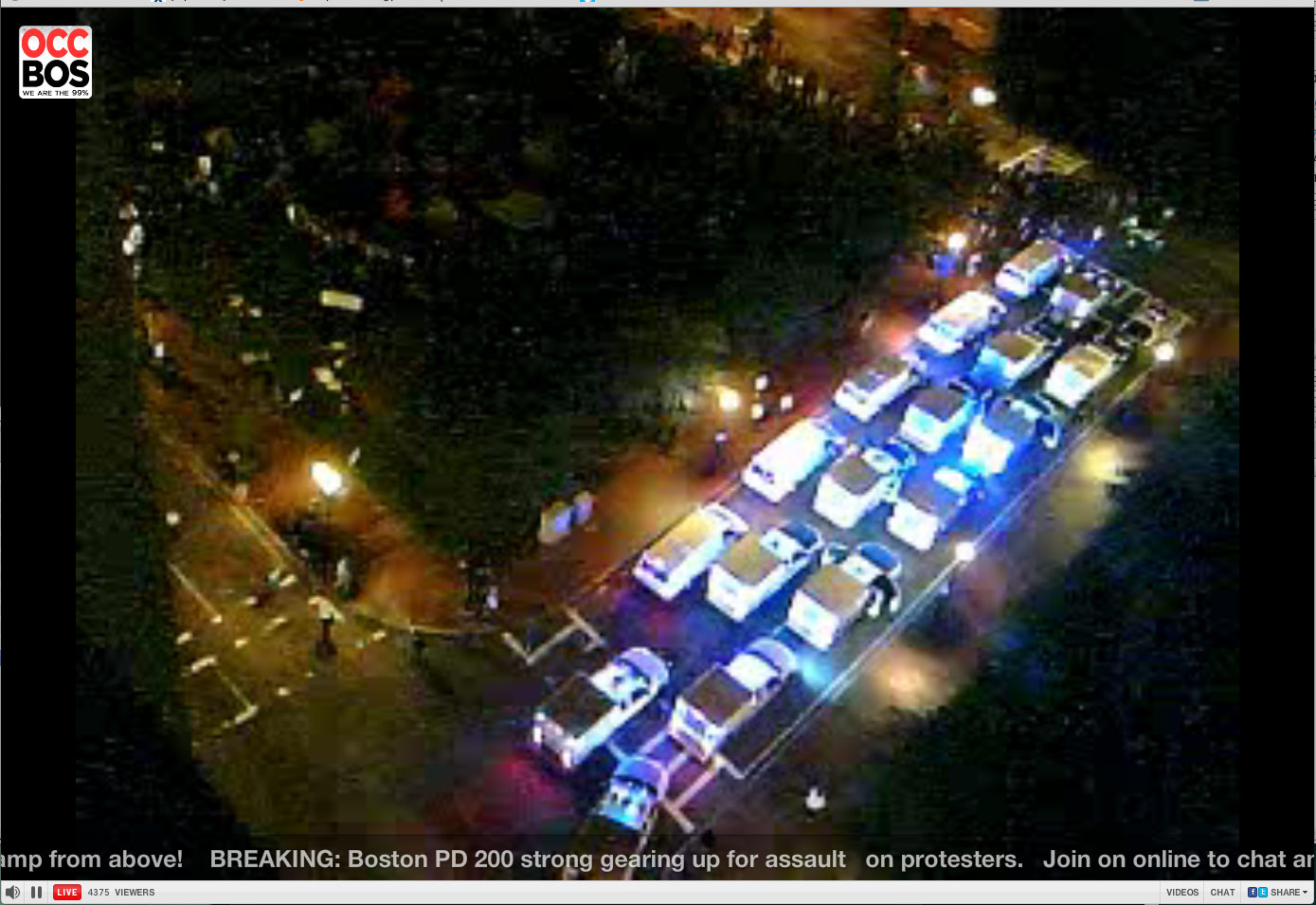 [[image:
width="350" height="355" align="right"]]
One Solution
Organize a list of photographers with systems capable of HD video monitoring to be on the ready. When called they would report to camp and pick up a Taradek cube and wireless modem. With this "Cube" we could stream HD video over our upgraded Livestream account 24/7 from a camera capable of lowlight shots. These streams can be recorded in camera and remotely at the same time. With this system you could broadcast 24/7 and really allow the country in on what's happening.
Also an organize a list of on air spokesmen and women that can be scrambled to the scene to accompany the
camera and give on air context to what is being shot would make all the difference in the world. The image above had no audio during the raid. Global Revolution was calling folks on the street and piping in audio from telephones. This seems much more effective.
Budget for one streaming film unit:
Internet - Clear wireless has a wimax $60/month
Software - $33
LiveStream $350 to $1,250.00 a month
sms group texting service - $49 a month
$2082.00 - $3042.00 the first month.
($460 / month each month after that)
---
Additional Info/Sources:

Internet Connections:
Clearwireless
$60/month 3G/4G Modem for Camp and Mobile Modem for laptop - Unlimited Data
Software:
Air Video - $3
VLC - Free
NFS fileshare - $30
$1,590.00 - CUBE-250: 1ch HDMI Encoder, Dual Band WiFi & External USB Port
[[1]]
[[2]]- possible aerial camera platform
---
Based on: Video Streaming Proposal at wikispaces