Audre Lorde to Howard Zinn Library (A to Z)
Jump to navigation
Jump to search
Want INFORMATION to inform your ACTIVISM? Want to learn more about histories of RESISTANCE, investigating CORPORATIONS or ANTI-RACISM FOR ACTIVISTS? Ask the Audre Lorde to Howard Zinn Library!
We can help you find resources and answers to questions regarding your work with Occupy Boston. We may not have a tent anymore but we are still here to help!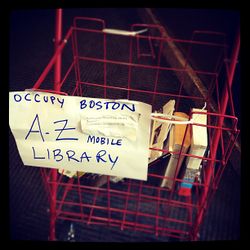 To ask questions anytime:
Go to the Radical Reference website*
Click on Submit a Reference Question at the top of the page

Fill out the form. Your email address will be shared with Radical Reference librarians, but will not be made public.

We'll email you an answer, or with any follow-up questions we might have.

We'll also post the Q & A (with any personally identifying information removed) on the Radical Reference site. If you don't want us to publish your question on the site, just tell us.
*Radical Reference is a collective of volunteer library workers who believe in social justice and equality. We support activist communities, progressive organizations, and independent journalists by providing professional research support, education and access to information.
RESOURCES WE WANT TO SHARE WITH YOU
Reading Lists/Archives (These are created on demand - please let us know what you'd like to see here.

)
About A-Z Library
About Occupy Boston and Dewey Square 
RESOURCES WE WANT YOU TO SHARE WITH US
Favorite Resources

 suggested by visitors to the A-Z Library (

Contribute more by visiting the tent!

)

Post your pictures, videos, anecdotes, writings, poetry, etc on this space.  
PROGRAMS FOR FAMILIES AND CHILDREN
There's no family programs scheduled at this time

. We will have more posted here in the future about any mobile events we may be doing!
MEETING MINUTES



Working groups