Participate
Jump to navigation
Jump to search
Help Build the Movement
Support the Occupation
Visit Dewey Square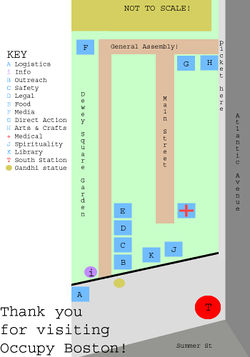 Come to the site! Go to the Welcome Desk or the Info Desk and say, "How can I help?" Come over to Dewey Square (Directions) and drop in to the committee tents, shown on the map of the grassy space south of the Dept. of Transportation building (orange block at the top) The Dewey Square OccupyBoston site is diagonally across from South Station and the intersection of Summer St. and Atlantic Ave. There is also an Outreach committee on the site that is looking for people to help spread the message and make contacts with other organizations.
Events every day
There is a calendar produced by Media working group that shows you the many events that take place every day. (Click the agenda tab, it is much more readable then). This calendar agenda is also on the right side of the http://occupyboston.org main site. Be sure to attend a General Assembly to 'see what democracy looks like' and help to develop a consensus. Currently at 7:00 PM on Sunday, Tuesday, Thursday & Saturday, but check the calendar to be sure.
Help out for a while
Greeters: This is a fun job if you like meeting new people and don't mind talking to strangers. Greet newcomers and ask them why they are there. Help them get a sense of the camp and where to find things. And find out if they want to "sign them up"! for fun jobs that they'll enjoy… like marching, or making posters, outreach, or even developing policy as we move into "how" do we actually get this done part of the demand process.
Data Entry: onsite, to enter email addresses and other data into computers
Errand Runners

– for the campers…the campers ARE the occupation. If we keep them comfortable, they'll stay longer.
– for the volunteers at the INFO desk and WELCOME desk. The folks staffing these tables are "stuck" there for hours. And they often need water and other supplies

Trash/Clean-Up: this is everyone's job and after camping all night outside, it's hard to remember to clean up everything. You'll see many smiling faces if you can pitch in and pitch it out. If you can take a few minutes to walk around and pick up while you're there, that would be great.
Poster Makers and Cardboard Cutters: Make posters and/or cut up cardboard. Fun fun fun!
Supply Sorters: help the LOGISTICS tent sort through boxes and boxes of supplies and organize the supplies.
Community Watch: Night Hours... walk the site to make sure everything is OK. A constant "awake" presence is required at the site for safety, and to show the public that we're managing things well.
Email for Volunteer Coordinators: volunteeroccupybost@gmail.com
ADDITIONAL VOLUNTEER DETAILS
There are Working Groups that meet at the Occupy Boston site and have a presence on the internet with their own email listserves, pages on this wiki, twitter feeds, facebook pages, and other and developing communication outlets.
Donate
The Donate and Logistics pages on this wiki provide lists of items that are needed. There is also a list generated by OBLogistics on twitter at http://twitter.com/#!/OBLogistics
At camp, check the lists posted by the Logistics Tent. (When you first walk into the Occupy Boston camp in Dewey Square from the South Station side you see on your left the Logistics tent.)
To donate money, the main occupy Boston website at http://occupyboston.org is the place to go. Currently on the right hand side are lists of various funds that have been set up for donations and links to an easy way to make donations.
Support a Cause
Join this wiki - the Help file will show you how. Then you can contribute content and engage in discussions. There are multiple groups of people working on documents and discussing ideas. Be sure to check the discussion tab on an page that interests you. See what other people are saying about that page, contribute your comments.
Interesting pages include:
Outreach
The Outreach working group can help you to poster, or set up an information table in your town. It has a Graphic_Design page where Learn how print the stickers to hand out during canvassing and to spread the message! Here is also where you will find ideas on you can work as a blogger or tweeter to build the movement. Outreach Committee meetings are Fridays at 6 p.m. by the Gandhi statue.
Some Working Groups sometimes meet offsite or are actively collaborating with other groups. For example, the Labor Outreach Committee meets Mondays at 4:30pm at SEIU 615 to accommodate the labor organization members who wish to actively participate in our group process.
Get involved in an ongoing project. Want to work on a encampment paper. Check out The OCCUPY Boston Globe
Follow and Contribute on Social Media
For information on marches and actions, don't forget to join us on Facebook and Twitter!
Check out the Solidarity page for hundreds of Occupation related media sites.
Direct Action
Participate in Bank Transfer Day - on or before 5 November 2011