WG/Strategies/Ideas
Jump to navigation
Jump to search
Ideas Working Group
Provisional Mission Statement
The Ideas working group will actively seek out the contributions from the Occupy Boston encampment, its community of supporters, and from society at large. It will develop transparent and inclusive methods of organizing these ideas in order to facilitate their exchange and development. We will also host open discussions on widely held concerns and values, as well as around important questions of strategy.
The next OBIdeas Public Discussion will be: Friday, 28 October, 7-9 in the GA Area. (An unscheduled GA has been called for 10/28/11 at 7 PM in, you got it, the GA area. We are determining how to proceed.) OBIdeas Public Discussion has been tentatively rescheduled for Monday 7 PM in the GA area. Topic: How does Occupy Boston preserve it's momentum?
Working group meetings (open to all): Sunday, 31 October 9:30-11 pm location: meet at the Gandhi statue Wednesday, 2 November 6-7 pm location: South Station Mezzanine (2nd floor above/behind McDonalds)
Mailing List: ideas@lists.occupyboston.org To join the working group, go here:
Join the wiki. Have some ideas you are developing? Consider putting a link to them in the group workspace: User:WG-ideas You can also create your own user page by clicking on your name in the upper right.
---
Below are some ideas we have been discussing, voting on, and collecting:
- The approved Statement of Purpose
- A current discussion about a proposed Statement of Occupation
- A collection of discussions about our statement of purpose.
We will continue to post questions on whiteboards, banners, and the giant notepad in the Library, transcribe them and explore new and useful ways of presenting the ideas. To contribute to the wordclouds below, click the question at the left, click edit on the top right, and then add your response (Note: you must first create a user account before you register. Please do!). We will periodically update the wordclouds until we figure out a way to have them update in real time.
Also check out www.wearebeings.org for more cool word clouds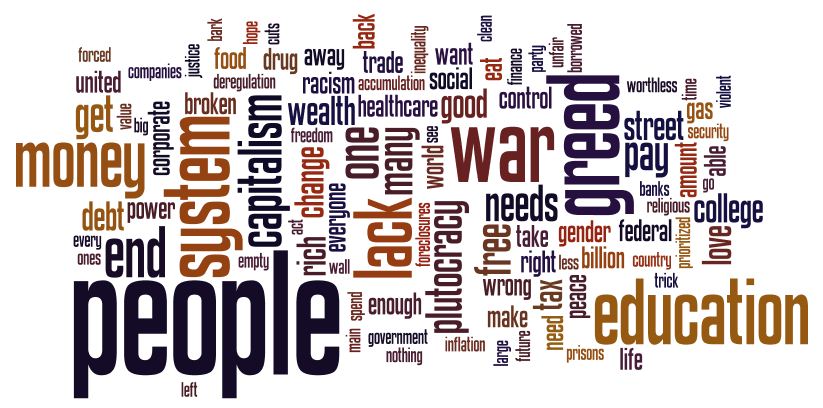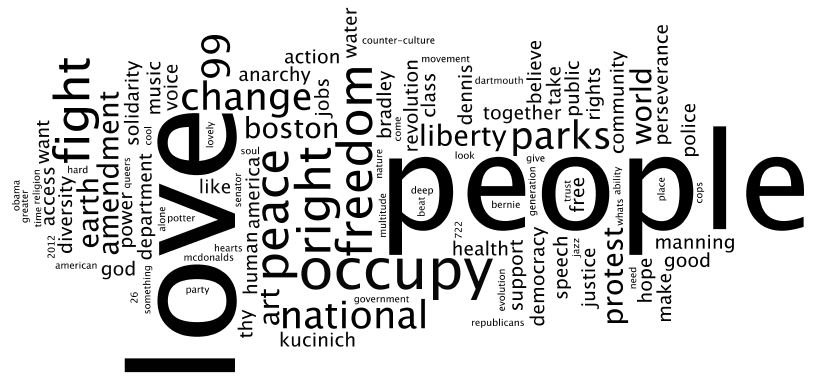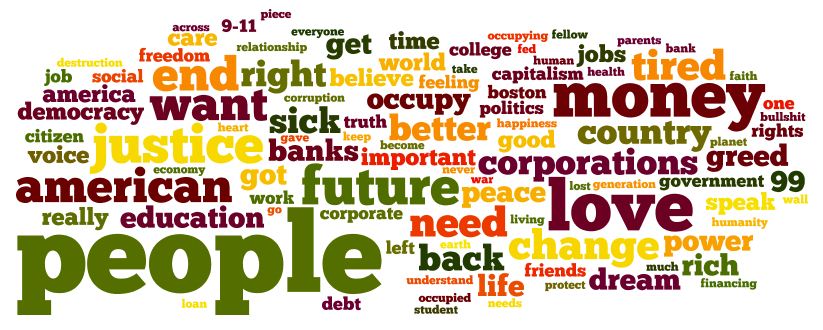 Testaments of the 99% (would not upload)
meeting notes/agendas
Wed Oct 26
plan for Friday night discussion
Next strategic steps ( how will occupy boston develop?)

our camp
indoor space
model change

Move your money / Banks

alternatives
nonviolence
partnership with DCU / Liberty

TBD friday night

small group
input on agenda items
hot or not model

How does Occupy Boston preserve it's momentum?

( temp check taken and this will be our discussion topic)
Publicize on Facebook, twitter, wiki, whiteboard, APB to *working groups.
Format of discussion- Stated that the goal of this discussion will be to bring out and foster the seeds of autonomous actions, working group proposals, positions
Small groups, time check in with temp check, Step forward step back
Facilitated by Noah and Andrew, Note taking and time keeping by Laura and George
other items
Planning subsequent topics

Head to Head (hot or not)
Online/ whiteboard
Contingency plan -Next steps (winterization/other strategies) *Move your money day -living document -Name of group *Strategy/expansion

New methods
validating
collecting other people's ideas
Meeting time
Wed 6pm / Sun 9:30 pm/ dicussion fri at 7