Email Help
Jump to navigation
Jump to search
Email Setup and Configuration
---
Greetings.
Email for Occupy Boston is provided though MayFirst.org. They have some support documentation and FAQs, so if your questions are not answered here you might want to visit their support pages here: https://support.mayfirst.org/wiki/faq but generally speaking, the documentation you are viewing here is more current and tailored for OccupyBoston users.
Webmail
Prefer to use webmail, rather than a traditional email client? Go to https://members.mayfirst.org/ and provide your login there.
After logging in to webmail for the first time, be sure to set your "Default Identity" as described here: https://support.mayfirst.org/wiki/setting_default_identity_in_horde
Quick Start (Just the settings: for experienced users)
Configuring email just entails a certain set of options in which you tell servers where to send things and how to send them (e.g. encrypted or not...) So here's the short version of options for people who know how to set them:
POP and IMAP settings
Server: mail.mayfirst.org
Encryption: SSL
Port: 995 (for POP) or 993 (for IMAP)
SMTP(Outgoing mail) settings
Server: mail.mayfirst.org
Encryption: SSL/TLS (or STARTTLS)
Login method: plain or login
Port: 587
Requires authentication: yes
Step-By-Step: Creating a New Account
This process is very similar whether you are setting up the email for your smart phone or a laptop/desktop computer. You start by
opening your email program and creating a new account (This example is from an excellent free email software client called Thunderbird,
but it's similar to for example, an iPhone.)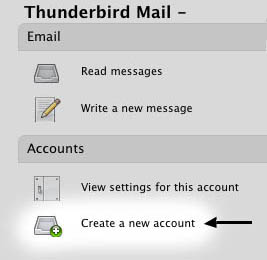 Configuring Email Client Software
Creating the Account
Your software might be different in its interface pages from our example here (Thunderbird for Mac, Windows and Gnu/Linux), but in general they will all be fairly similar, and if you need help you can just ask someone in IT or your Working Group for help with your specific situation. When you click on the option to create a new account, you should see a window where you can enter the UserName and Password you were given when the account was created: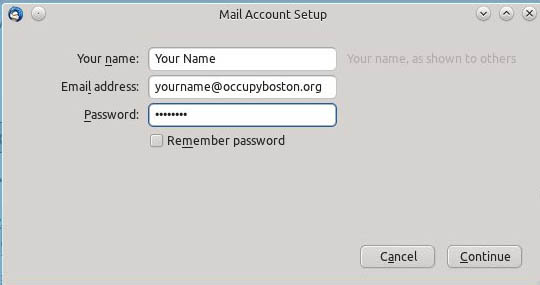 When you do this in Thunderbird (and some other email clients), it tries to auto-configure the account for you by logging into a default server.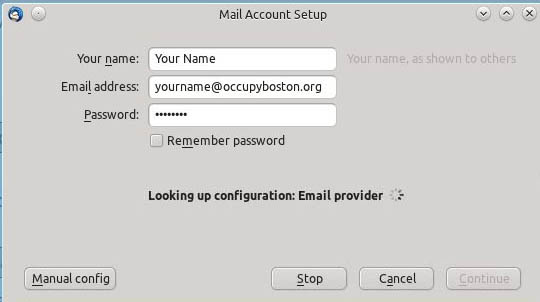 After a brief Internet server transaction, the user is presented with the following auto-configured settings. (If your software doesn't attempt auto-configuration, just skip down to the POP/IMAP settings.)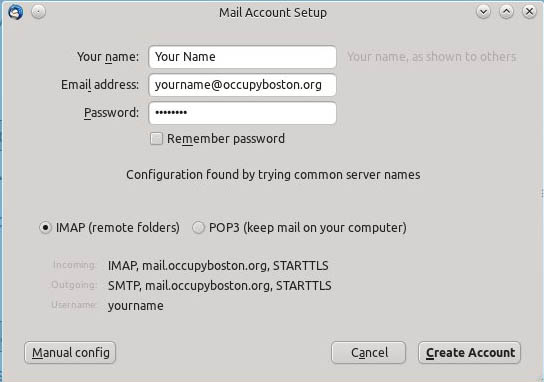 In this example, you can see it quessed at some options and filled them in automatically (like it selected IMAP instead of POP).
Sometimes it guesses it all correctly, but it is strongly suggested that you manually configure the settings the way you want them
by selecting "Manual config". (In this case it failed to guess the server name correctly).
The crucial things we need to change here are the name of the server and the decision of POP vs IMAP as a way of receiving mail.
Thunderbird tried to auto-configure your email account, and based on the email address you entered, it tried to use "mail.occupyboston.org"
as the server. This, however, is not the email server to use. In fact, the server to use for sending and receiving email is:
boggs.mayfirst.org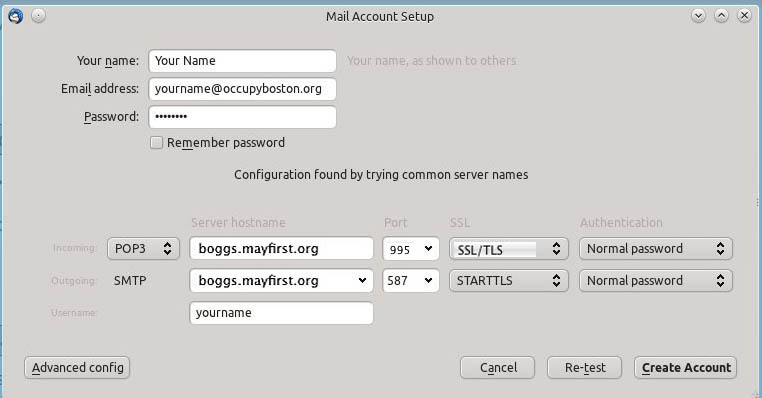 Configuration for Receiving Mail (POP vs. IMAP)
The difference between the two mail delivery protocols is pretty significant.
POP/POP3
This protocol ("Post Office Protocol") is best used if you primarily read email on one computer (like a laptop), and want to sort, edit and access it while offline. With POP, when you check your email, the server checks for any new email and downloads it to your local machine, by default deleting it off the server. If you select POP as a protocol, the port should be 995.
IMAP
This protocol ("Internet Mail Access Protocol")is best used when you are accessing your email from many different machines, and want to leave your email messages on the server. If you select IMAP as a protocol, the port should be 993.

Both/either protocols should be set to use SSL (or STARTTLS) encryption and normal password authentication.
Configuration for Sending Mail (SMTP)
After entering your choice of POP (port 995) or IMAP(port 993), make sure that the SMTP server is boggs.mayfirst.org, the port is 587, and a plain ("Normal") login authentication is required. Then you can go ahead and click the Create Account button. Your email client software should now be correctly set up.
We advise that you double check your account settings.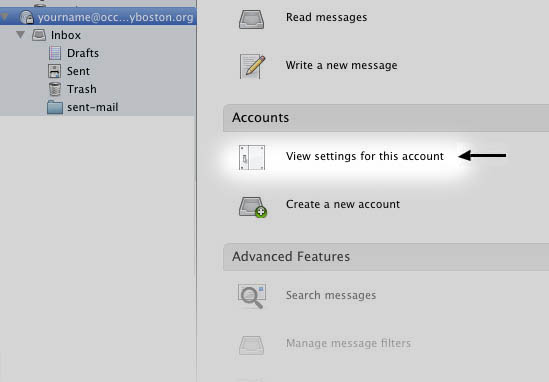 (Whichever email client you use, there should be some menu item that let's you view "Account Settings"...)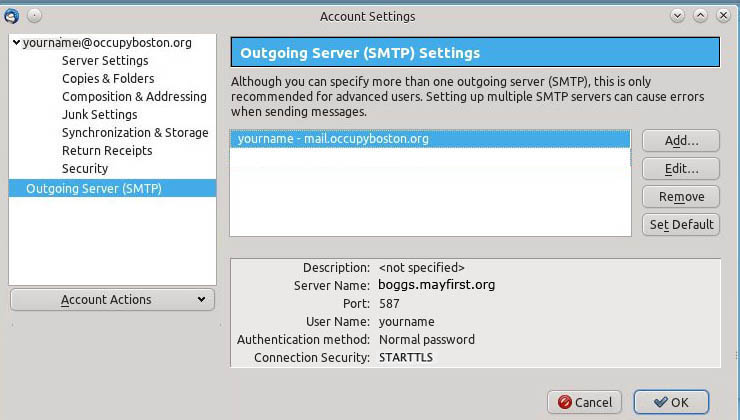 In these settings, select the "Edit" button for SMTP or "Outgoing" mail.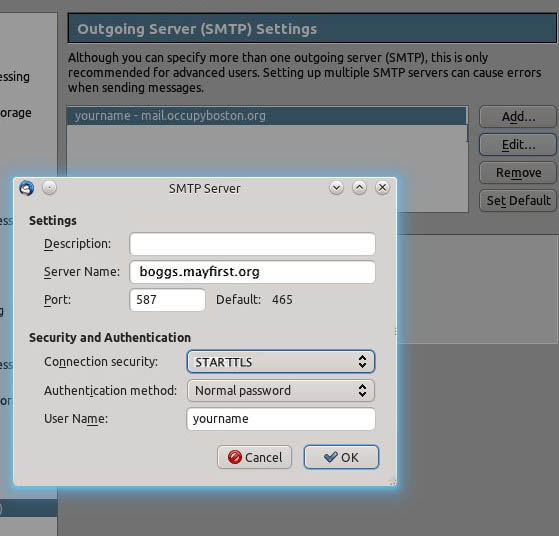 Here you can verify the Server Name, Port, Connection Security, etc.
For that matter, you can also edit/correct any of the other settings as well, in case something was entered incorrectly.
For example if you select the "Server Settings" for your account, you can adjust the settings for POP or IMAP.
Have fun!
Avoiding Duplicate Email Addresses
Sometimes people send emails to multiple lists, and we get many duplicate emails. In order to remove these duplicates you can install this plugin https://addons.mozilla.org/en-US/thunderbird/addon/remove-duplicate-messages/ .