Occupy Boston Summit Notes
Jump to navigation
Jump to search
Note: View the Overflow Room's Summit Notes from Saturday, 19 November 2011.
  Download PDF version of main room notes (this page).
Occupy Boston World Café Summit
Josiah Quincy School, 885 Washington Street, Boston
Group Memory
November 19, 2011
Start Ups
Welcome
Maureen White:
Welcome to day 51 of Occupy Boston! My name is Maureen White, I know many of you from around OB and elsewhere. Thank you for coming here to the first ever OB Summit! This is really amazing and exciting and it's been incredible to see this seed of an idea of a summit to be nurtured by so many amazing people over the last two weeks.

Who's here in the room? Raise your hand if…
You have been to Dewey Square?
This occupy movement has inspired you to donate anything?
You are part of an occupy WG?
You have slept at the encampment?
This movement has inspired you to take some kind of action?
Through this movement you've taken the opportunity to meet new people and build new relationships?
You've contributed by using occupy as a way to have conversations about inequality you might not otherwise have had?
That's beautiful. There are so many ways to contribute to the occupy movement. All these contributions are needed now as we face challenges and opportunities. The opportunity for us to come together and addresses challenges and opportunities was the impetus for convening this summit. It's about harvesting the collective wisdom of all the people in the room. We're going to spend the day having some dialogue, and as we move through it we might find that we don't always have agreement or shared opinion, and that's ok. I suspect we'll probably find that we have alignment or shared intention to create a more fair and just world. We want to enjoy spending this afternoon together talking about our future.

Mariama White-Hammond:
How amazing it is that even in our wildest imagination as we were planning this, this has already exceeded our expectations in attendance. I've been traveling for 10 days. I had the opportunity to visit Occupy Detroit, Oakland, and San Francisco. I've been having dialogue with Occupy Wall Street and Atlanta. As I started to talk to people about this summit, people were like, "we need to steal that idea." We are here and we are Occupy Boston and we are part of a national, global movement that's raised issues that needed to be raised in this country. I want us to see ourselves not just as individual, but part of global moment. And use this opportunity to go deep together and share it with others around the country.

Reverend Jason Lydon:
It is so beautiful and exciting to be in this space together, learning, growing, transforming and being transformed by and with this community of folks coming with different ideals, hopes, drams and knowing we can create something transformative and be rooted in our collective and own experiences.
Jason read the Marge Piercy poem, "The Low Road:"
What can they do
to you? Whatever they want.
They can set you up, they can
bust you, they can break
your fingers, they can
burn your brain with electricity,
blur you with drugs till you  can t walk, can't remember, they can
take your child, wall up
your lover. They can do anything
you can't blame them from doing. How can you stop
them? Alone, you can fight,
you can refuse, you can
take what revenge you can
but they roll over you.

But two people fighting
back to back can cut through
a mob, a snake-dancing file
can break a cordon, an army
can meet an army.

Two people can keep each other
sane, can give support, conviction,
love, massage, hope, sex.
Three people are a delegation,
a committee, a wedge. With four
you can play bridge and start
an organisation. With six
you can rent a whole house,
eat pie for dinner with no
seconds, and hold a fund raising party.
A dozen make a demonstration.
A hundred fill a hall.
A thousand have solidarity and your own newsletter;
ten thousand, power and your own paper;
a hundred thousand, your own media;
ten million, your own country.

It goes on one at a time,
it starts when you care
to act, it starts when you do
it again after they said no,
it starts when you say We
and know who you mean, and each
day you mean one more.

Suzanne Lee:
Welcome to the Quincy Elementary School cafeteria. I was the former principal of the Quincy School for ten years together with Elaine and David who are here, the director of the Boston Chinatown Neighborhood Council. We made this school one of the beset urban schools in MA with 80% of children receiving free and reduced lunch, 60% speaks another language at home, and we topped the MCAS score every year. We know poor children can get to the top. How we get there is b/c all of us who work in this community have been in this fight for more than 60 years. I will be in this fight for 40. The site you are in now, this whole complex, was designed as a community center with a health clinic and a school so that it's opened up to the community after school hours to share all the space. To my teachers when I interview them, I ask "are you willing to share your space with the community after school hours?" If you're not willing to do that, this is not the place for you. We're able to build on the concept of collaboration, cooperation, and with a common vision. The city has brushed aside stomped over housing to build the expressway and mass turnpike in the name of progress. They leveled more housing on where my father used to live back in the 40s and 50s, called New York Street. That's why people were forced to move. Every step of the way, people kept saying why? They are poor people living in Chinatown? We've been here for 150 years. This is one of the oldest Chinatowns in the US. In other places like Philadelphia the Chinatowns are gone. We are not going to let them push us out. Across the street, the piece of land was called Parcel C and was the last piece of publicly owned land by the City of Boston. They wanted to hand it over to Boston Medical Center. We fought back for 10 years, no way. All the elderlies who lived here were being pushed out and had moved elsewhere, but we came back to help. Many of us were first ones in our families to go to college. Even though we don't live here this is home. We came back to use our skill and vision to make sure our community remains for the future generations. Now they have a building that is 40% affordable. It's not perfect. What's happening here today and the occupy movement. I got to be where I am, to go to college to schools like Brandeis and Harvard because of the Civil Rights movement. Students that came before me occupied buildings to make sure they accepted students who have the ability, but not the means to pay. Those doors are now closing and we gotta make sure those doors remain open so that everyone who wants it can go there. It's about time that we send that message. This is common sense, people who want to have a say. I retired as principal and I don't want to sit still. I just ran for office in district 2 and lost by 87 votes to get on the City Council. I know it's possible when we come together and focus and forget about little differences we have among each other. We need focus on the big picture that the 99% wants to have a say and wants things to be equal.
Melinda Weekes:
Together with Andrea Nagel we are pleased to serve as your facilitators for today's World Café. We have been asked to serve by way of volunteering on some working groups of Occupy Boston. It's a deep honor to serve you. A World Café is really based on the ancient art of conversation. The premise is that pretty much everything we need, the wisdom we need to sort out what's important to us lies inside of us. That's the premise we're seeing, the collective intelligence and wisdom that we bring to this moment into the room. World Café is going to help us discover what that wisdom is. It's not so much based on decision making, although action will flow from this. More importantly, it is about us discovering together collectively what we sense, what our wisdom is. This process has been chosen to facilitate our coming together figuring out who we are, what our next steps are, and what is important to us.

Raise your hand if…

you have volunteered to help today
you have been on the host committee, planning this summit
you are recording (live notes will be posted on the OB wiki and website)
you are part of the facilitation team
The audio is being live streamed. If you hover near that part of the room, you may be interacting with folks online.

For 200 people to have a conversation, in order to work together, we need to lift up some working agreements to help us do this successfully.

Conversation Agreements

Focus on what matters
Listen to understand
Step up, step back
Speak and listen with heart and mind
Use and link ideas to others' ideas
Put your hands up when others to do listen for further instructions
What is our story so far?
Andrea asked everyone to discuss this question at small tables.
What values do we want to live by?
Andrea asked everyone to discuss this question at small tables and to fill out one sticky per value.
Values Word Cloud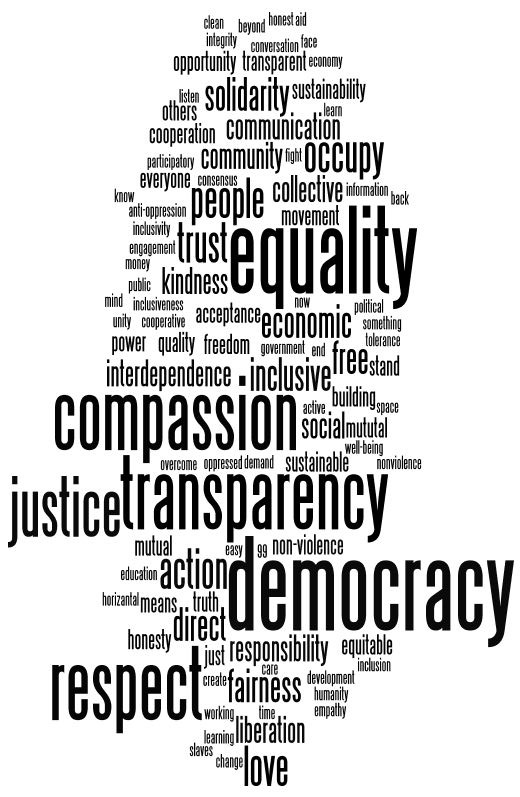 Harvest (ideas shared out loud in the large group)
Anti oppression and collective liberation
Cooperation
Solidarity
Direct action
Equality
Truth
Knowledge
Transparency
Integrity
Internationalism
Compassion, compassion, compassion
This movement lives its values by building transparent, inclusive…democracy in the shadows of democratic institutions
Mutual responsibility, guarantee each other's livelihood
Interdependence
Building environment where everyone is taken care of
President of Chinatown Resident Association: So happy this great group of people are coming to Chinatown. I'm personally supporting this movement and know that this action has been brought out to over 50 cities in the US and also throughout other countries. I know that this movement will be keep growing and growing and I will continue to support this group.
Value is voice to be heard, respect, justice
Learning to communicate to the true depth of any other person even those taking roles …
Fun and humor
Trust to create sustainable change
Willingness to learn a different point of view
Redistribution
Love
Communication
Equal sharing of information
Consensus process
Collective liberation
Leadership from most oppressed communities
Sustainability – voluntary, not top down
Inclusiveness
Non-violence and redefining as not physical
Democracy
Simplicity
Generosity
Courage
Democratic control of state, government, and economy
Sense of responsibility
Humor
Tolerance
Integrity
Accessibility with message available to everyone in free space
Living wages
Housing with quality for all
Equality in health care
Clean water and clean air
Getting things done
Sustainability
Compassion
Sovereignty
Honesty
Respect
Autonomy while acknowledging interdependence of society
Accessibility to space, food, education, dialogue, education
Transparency
Life before money
People and planet before profit
Andrea asked one person to stay at each table as a "host" and the rest of the folks to move to new tables.
What do we need now?
Needs/Next Level Word Cloud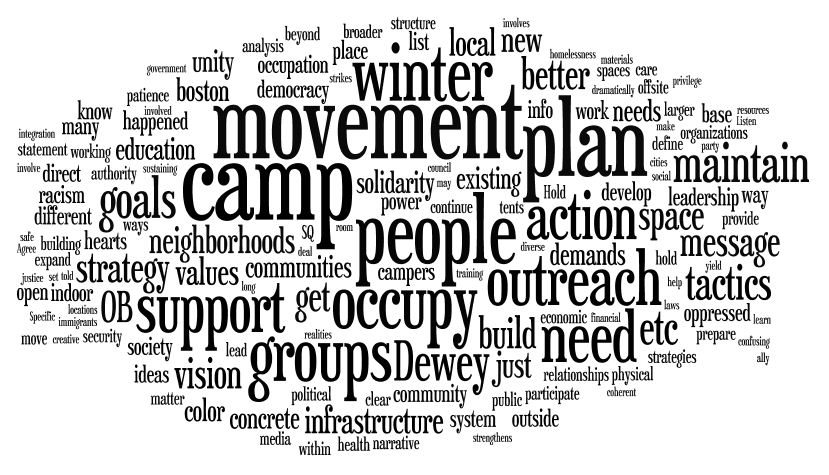 Harvest (ideas people shared out loud in the large group)
Mission statement
Increased support, membership, involvement to grow the movement
Better communication within the movement, for example when you look at the calendar tyrign to understand what activities are
Better coordination and outreach to others outside the movement
Physical location we can count on to meet, or three or four places we rotate among
Spokespeople
Online conversations and inside conversations to make it broader
Large protest like in DC
Keep focused on vision, not so much on police
Truth and reconciliation with corporations
Compassion not confrontation
Need to shift language back to focus on WE ARE THE 99% rather than occupy b/c occupy is a tactic and limits us in many ways including the Am Indian community
Monthly summits to keep this energy and face to face contact going
More creative kinds of direct action
Education and outreach, plan to get message out
Sincere solidarity
Sustainability of each individual and movement
Compassionate and nonviolent
Amplify and listen to folks most impacted by our decisions
More Gas in more places, focused on specific issues
Decolonization, what that means
More voices for people of color
More outreach, conversations
Civic re-engagement for suburbanite friends, peers
More awareness, information so folks can identify themselves with the movement
Strategy for multi-level marketing known as word of mouth
Each of us as individuals need to take ownership of reaching out to our familial network, spreading the word about occupation movement
Instructive ways to shift focus of our country's funding from war to education
Deal with realities of homelessness, power dynamics at camp
New theory of economic democracy, post-capitalist vision
Hold camp after winter
Talk about race, concrete problems
Connecting with other groups
Better information about how people who are not camping can participate and help
Strategic plan with list of outcomes
In light of the egregious stuff continuing to occur, we do need a few demands such as PROSECUTE WALL STREET
Educate broadly, not just social media
Build democratic work places
Set up Christmas trees at camp so cops can't bulldoze
Intergenerational dialogue
Non-police ways to deal with disruptions at camp
Addressing divisions emerging so we don't fall apart
Accountability
Diversity of tactics with depth of analysis to build momentum and support
Media strategy and clear messages with dedicated spokespeople
Inside headquarters and paid staff
identified candidates and legislation to support
winterization, possibly including indoor headquarter space downtown, possibly vacant storefront or warehouse space for disseminating information,  meetings,  planning, keeping library and computers and people safe; regardless of whether tent camp stays or goes after December
tangible political goals
educate people on OB process
I'm here from Occupy Wall Street. Our camp has been closed down b/c there were so many voices, opinions and opposing views and it was easy to destroy us. We're doing our best to rebuild, but damage has been done. We came here b/c we feel without unified voice and one vision it will be easy to destroy us here as well. Propose we do of such events in the future and create roundtables and little by little start to narrow to one specific demand to government, corporations, society in general
Better ways to build relationships between differ groups – campers, working groups, distant supporters – to know needs of each and support other groups
Realize if we get tear gassed, we won't be friends anymore with the police
More civil disobedience, and to expand b/c we need more campers as well
More action
More revolutionaries
More participation in our camp community and in our GAs
More people to participate in safety b/c right now Direct Action
Be something, say something – if something's going on at camp,  you should address it and also tell a WG member
More  strategy
Balance between logistics of survival and the building of the vision
Plan for sustaining movement if the camp is evicted, take advantage of what's already happened
Move forward, evolve, challenge our own shit – racism, sexism, etc.
Been at the camp 90%  of time since inception; see familiar faces here and others I haven't seen before; all of you should be there at least some of the time; it's not a bad or unsafe place; don't believe the hype; I spend a lot of time making sure it's safe, cooking there; before it's written off it would be a nice gesture if all of you could spend a night there
What must we do to take OB to the next level?
Melinda asked everyone to discuss this question at small tables and to fill out one sticky per idea.
Harvest (ideas people shared out loud in the large group)
Define what violence is
More involvement and participation in WGs and GAs
Diversify camp to make it safe for non-white males
Reach out to workers and working poor
More civil disobedience
Nationwide mass of local abandoned buildings
Decentralize movement
Workshops
Working in alignment with existing efforts with the homeless, and occupying abandoned buildings
Flexibility for GA including time and place
Trust lands we can make a map, there are 400 in the City of Boston
Use same process now; organize in neighborhoods and have them use this process re: direct issues in their neighborhoods and use these processes of direct action to take action on issues in all those neighborhoods; we have socially and economically different populations; and we can all come out cause we all feel these issues
Lots of new faces here, lots want to participate; tomorrow we'll have an occupation orientation at 11 a.m. at the plaza; working groups be there to recruit; anyone who wants to get involved, it's a great way
Email list for those can do shifts at camp - overnight safety, info tent, greeters
Wonderful honor of working with the group of people here who've part of Direct Action and I imagined would happen, I ended up having tremendous respect for what they're trying to do; three things we said:

Escalation - Please talk to people what they mean about that
More love and respect for onsite occupiers, not campers, on site occupiers; we are not camping
Learn from the herstory and history of other direct action movements and what we can put into action

Occupying other buildings and spaces that represent the economic situation and cuts in the city – schools that have been shut down and libraries under attack
Thoughtful civil disobedience, set of certainties which can serve as invitation to occupy movement, pamphlet printed out
GA highlight of everyone's day, whatever it takes
Neighborhood cleanup crews and engage those in most marginalized communities and do necessary work  to make those communities more beautiful
Generate things for people to do in home towns, especially with jobs and kids so they feel they can participate in the movement
Take this energy and power and organize way, diversity encampment; be lean and mean and on our feet; moving protest 24-7, organized facilities online, on doorsteps of major institutions and residences of their principles; 4-6 shifts, people getting rest, three pronged agenda – jobs, justice, education
Move your money day and potential for us to expand that by engaging consumer consciousness,  and engage people off site who know something's screwed up
Getting my generation and those younger than me on board and off their couches, engaging them and respecting them using all the technology we have available to inspire my generation to make a move to write their own destiny; a lot of the Students OB group are working to do that
Connections with other organizations that share our values
Tell the story better
Simplify our message
Educate
Police confrontation is inevitable; we need strategic disobedience, discipline, training, discuss spokes-councils
Occupation of universities has begun with Northeastern Harvard, Tufts; speak to those occupying there; they are a marginalized group
In Atlanta, the occupation successfully occupied the home of a policeman who was being illegally foreclosed upon; they stopped his foreclosure; our group suggested as sas direct action tactic, to assist particularly in communities of color, where illegal foreclosures are rampant, direct action occupations to stop those foreclosures
2012 is the international year of cooperatives; we should use 2012 as an opportunity to celebrate cooperatives and in particular on the first Saturday in July, Day of Cooperatives, and in Boston there will be a Coop Fair; find out about it, support cooperatives and celebrate cooperation
We suggest mic-checking everybody; we tried to mic check Newt Gingrich last night, he got scared and left town, he cancelled his book signing; we want to mic check John Kerry, Mayor Menino, media organizations; mic check is powerful, mic check gives everybody a voice
Occupying foreclosed properties has been happening in Boston for a few years; check out City Life/Vida Urbana
Learn from our brother from OWS b/c he articulated where we need to go more than anyone else, learned the hard way and using lessons learned to help the future of the occupy movement; we need strategy and vision
Articulate plan for action with strategies, define vocabulary and tie nexus together – social, economic, environmental justice – and work  with universities and grassroots organizations more that are elders that already have common goals
Need to have an occupy national strategy summit! We can start it here. Move together and create strategies, utilize internet and our resources b/c wisdom and truth comes first circle. You said all the wisdom lies inside ourselves. All the answers lie in this room. We can truly change the world here by changing the conversation.
What story do we long for future generations to tell of the Occupy movement (or whatever you want to talk about at your table)?
How Remembered Word Cloud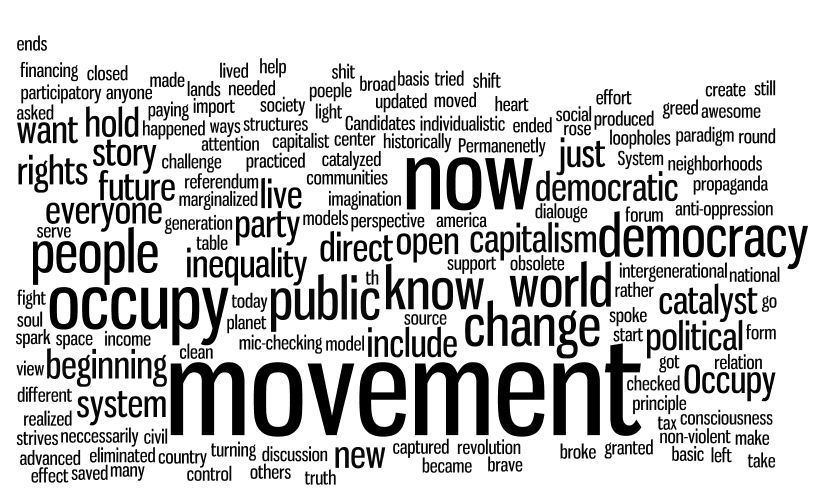 Say to the future generations: we changed the conversation and therefore we changed the world.
Update democracy for the way the world is now
Vision of millions of people in the street. The People spoke, the planet is saved.
Occupy – a national convention is being planned for July 4 in Philadelphia
First time in our history of humanity that we have a world revolution.
Remember in our actions, strategy and points we want to make to this country and world, the people who have been hurt first and foremost have the middle class – lost pension funds, wealth in stock market
Continue meeting and invite local government, mayor, city council to listen to our voices. Legislators, city council, etc. are elected by us so they should serve us and represent our voices.
Change we make here is going to be lasting change
Strategy and tactics – there will be 3 marches coming up in early December – the 1st, 3rd, and 4th – and we asked, is this a good thing or bad? How would you choose which march to go to? Hope someday we'll have a four conversation on strategy, tactics, goals and methods
This movement was manifestation of global shift in consciousness. Participatory democracy was lived and experienced. Focus on anti-oppression. Practiced different way of relating to each other. Made old model obsolete. Hold our own story and be able to tell our own story what happened.
Stated purpose – been proposing this - we occupy these lands in effort to hold public space for dialogue with each other about issues which affect society.
We restored humanity and bring them back to way we operate day to day
Words from Ocupemos el Barrio – we're occupying ourselves, creating social consciousness; get involved, we're trying to have you see our point of view, way of life, hurdles, work towards improving our society
Find ways to bring in more sympathizers and ways of keeping it interesting; best idea we had to do a flash occupy – every weekend at 2:00 or some time between 10:00 and 2:00 we know we'll be somewhere and we have a 2 hour window and it's tweeted or posted somewhere surreptitious and we show up at the same time at the same place. In the 80s we did this with raves. This would capture media attention every week and it would be a blast
Once upon a time OB in solidarity with rest of occupy movement triggered shift in power…people and marginalized people and so much more
Occupy helped American society confront problems of capitalism; we were the spark to re-imagine the system; peaceful revolution to bring attention to those ignored
Helped catalyze economic democracy
Helped make authority obsolete
Pushed limits of what was possible b y breaking down left/right dichotomy
We in MA have a senator named John Kerry who happens to be on one Super Committee.  Send messages of no cuts and tax the rich. On Tuesday there's an event organized to send that message.
Don't just accept legislative changes and go away, but continue to make fundamental change to society.  1960s was decade of change. 20-teens should be remembered as decade of fundamental change.
Demonstration in Harvard Square to support their occupation of Harvard Yard
Original vision of Dewey Square ten years ago was to be a botanical garden. We have a garden of democracy now. We should create a museum of native history, bring in real tents, make it interactive, and invite people to come make the history in Dewey Square.
See Dewey Square the same way we now see names like Fanueil Hall as in line with original revolutionary sentiment
Having defended and revitalized democracy and in order to do so we need to protect equal access to information; prioritize informed democracy and ability of people to educate themselves; we will set the stage for fairly dealing with problems of inequality such as economic and environmental
Connection is the enemy of capitalism. Everyone should be proud and pleased for the connections we've made today. We can pass on that this was a time that we understood that building relationships and staying connection was the way we understood to move forward.
This was the time in which we ended "-isms"!
Next Steps & Commitments
Occupation orientation tomorrow at 11 a.m. at the plaza. Working groups will be there to recruit. Anyone who wants to get involved, it's a great way to get involved!
Trans Awareness Workshop tomorrow at 11 a.m. at OB. We shouldn't double book that with the orientation.
Event Tuesday at Kerry's office
Linda Jenkins – would like to know more about mortgage foreclosures event Monday. I am willing to be arrested in the direct action in the service of populations disempowered.
I have been Free School University for two months. I will stay here. Tomorrow at noon the talk will be about the US movement's government towards war in Iran.
I will go to the General Assembly tonight and participate at 7:00.
I am committing to transition and begin to do more work in Direct Action with Direct Action. Committed to stay as an occupier downtown unless we decide otherwise. Commit to relationships I know have been fractured somewhat. Committed to get more out lesbians out here.
Kevin – I commit to marching with all of you at the end of this meeting down to the occupy movement and its encampment on Dewey Square. Let's take some of our words tonight and put them into action, have a march now to Occupy Boston. There are hundreds of us in this room.
Continue my work with Ideas WG, the Health Justice WG, recruit people for guerrilla theatre. And trying very hard to get an affinity group for offsite occupiers
Commit to try and set aside my frustrations and my ego for the good of the hood.
Commit to work around my work schedule and move into camp if possible and if I'm welcome and if not I'm going to try to spend a lot more time helping out with the day to day at camp, cleaning up, volunteering b/c it's therapeutic and about building relationships with everybody.
Harry – committed years of my life to figuring out how to organically grow a new economy so we can boycott the 1% economy and grow one that is equitable and sustainable for people. I wrote a book with a 12 step program that might begin the process.  Want to put together a WG to discuss the ideas I've written up.
I'm going to make a workshop that will help people at the occupation to connect with one another and really listen to and tolerate one another.
Committed to keep on working with Occupy the Hood, Ocupemos el Barrio and OB and outreach to all communities and bring them together.
I'm with Jobs with Justice and Mass United. We're going to take the fight to DC in two weeks. We're taking buses and people from 30 cities are participating. We'd love to have occupy with us. If you're interested come talk to me.
Laura Evonne Steinman – I will help with world cafes (handinhandarts@gmail.com)
Announcements
OB Women's Caucus has a meeting at 6:00 at the South Station mezzanine
To volunteer at the camp, there's a signup sheet at the table where you came in
Medical WG needs someone with large vehicle tomorrow morning to transport supplies from Dewey to the storage site in JP; talk to Pete if you can help
Movement building meeting for OB and if you work with a community group you're welcome; Monday at 7 p.m. at 26 West Street at SEIU building
Socialist Caucus of OB meeting Friday, November 26, location TBA; find out more on FB page – socialistcaucus@occupyboston
November 24 at 12:00 noon is National Day of Mourning. This is 42nd celebration and remembrance of genocide. If you're interested in rides email decolonizeboston@gmail.com
Large march on December 3rd, an open source demonstration, theme is unity. 1:00-3:00 rally at Copley Square
December 4th OB Women's March from Dewey at noon and back to Dewey from 2:00-4:00 for spoken word and music
March to the camp at the end of this meeting!
Tomorrow is Transgender Day of Remembrance teach in at OB at 11:00 followed by 3:00 march to vigil at 9:00 p.m.
Occupation Orientation is at noon tomorrow in the plaza where you get out of the train
Tomorrow at OB Peter Tosh's son will be performing. It will be filmed to create a music video at 1:30 – wear black if you go
Please get some food – we have leftover food and we don't want to throw it away! 
Occupy Boston Summit Host Team
Alex Ingram
Allison Nevitt
Angela Giudice
Bhavin Patel
Bill
D. Callahan
Ester Serra Luque
George Lee
Greg Murphy
Jason Lydon
Jude Glaubman
Katie Gradowski
Lisa Gimbel
Mariama White-Hammond
Maureen White
Meck Groot


Nicole Sullivan
Susan Barney
Susie Husted



Facilitators:
Andrea Nagel
Cynthia Silva Parker
Deb Gilburg
Melinda Weekes
Marianne Hughes



Recorders
Amy Gilburg
Jen Willsea
Linda Guinee

Audio Recording / IRC Log
Audio Recording: http://www.media.occupyboston.org/media-files/2011-11-19_obsummit.ogg
Internet Relay Chat (IRC) Log: http://wiki.occupyboston.org/wiki/Occupy_Boston_Summit_-_IRC_Log