Occupy MBTA
Jump to navigation
Jump to search
For the third time in ten years, the MBTA is offering its riders a choice between draconian service cuts and draconian fare increases in an effort to close a budget gap caused by legacy debt...We will not let our government balance its books on the backs of working people any longer... Debt relief for the MBTA can close the budget gaps without asking the poorest among us to carry a heavier burden and is good for T riders, T workers, T management--good for the entire 99%! - from a draft statement we are working on
Fight fare hikes and service cuts
Actions
February 13 - Somerville
Occupy the T: Free Charlie pdf, but including some info specific to the Feb. 13 action.
Canvassing
Here are dates for handing out fliers:
Sunday, January 29th (11am-1pm): Meet at Davis Square [near the Somerville Theater / Davis MBTA station] contact: Jamie Rinaldi (jamie.rinaldi@gmail.com)
Wednesday, February 1st (5pm-7pm): Meet at Davis Square [near the Somerville Theater / Davis MBTA station]. contact: Joe Ramsey (jgramsey@gmail.com) *This is a weekly action EVERY Wednesday from 5-7pm, starting in Davis Square*
MBTA Public Hearings
January 31, Tuesday
Boston (Mattapan) 
6:00-8:00 PM 
Mildred Avenue Community Center
5 Mildred Avenue
February 1, Wednesday
Jamaica Plain
6:00-8:00 PM  
Hennigan Community Center, Cafeteria
200 Heath Street 
February 2, Thursday
Boston (Dorchester)
1:00-3:00 PM and
6:00-8:00 PM
Dorchester House Multi-Service Center, Multi-Purpose Room
1353 Dorchester Avenue
February 6, Monday
Lowell
5:00-7:00 PM
City Hall Council Chambers
375 Merrimack Street
February 7, Tuesday
Lynn
6:00-8:00 PM  
City Hall Auditorium, Main Floor
3 City Hall Square
February 8, Wednesday
Boston (West End)
4:30-6:30 PM
Shriners Hospital Auditorium
51 Blossom Street
February 8, Wednesday
Hingham
6:00-8:00 PM  
Town Hall Sanborn Auditorium
210 Central Street
February 13, Monday
Boston (South Station area)
6:00-8:00 PM 
Boston Public Library Boston
Rabb Lecture Hall
700 Boylston Street 
February 14, Tuesday 
Framingham 
6:00-8:00 PM  
Town Hall
150 Concord Street 
February 15, Wednesday
Quincy
6:00-8:00 PM
Thomas Crane Public Library Community Room
40 Washington Street
February 16, Thursday 
Malden 
6:00-8:00 PM
City Council Chambers
200 Pleasant Street 
February 28, Tuesday
Somerville 
6:00-8:00 PM
High School Auditorium
81 Highland Avenue
February 29, Wednesday 
Cambridge 
6:00-8:00 PM 
Citywide Senior Center
806 Massachusetts Avenue 
March 1, Thursday  
Waltham 
6:00-8:00 PM 
Government Center Auditorium
119 School Street 
March 6, Tuesday
Brockton
6:00-8:00 PM
Massasoit Community College, Liberal Arts Building, Lecture Hall LA 560
1 Massasoit Boulevard
Links
Activities
Charlie and the M[B]TA
Bechtel and the MBTA

intro: "These are the times that try men's souls. In the course of our nation's history, the people of Boston have rallied bravely whenever the rights of men have been threatened. Today, a new crisis has arisen. The Massachusetts Bay Transit Authority, better known as the M.B.T.A., is attempting to levy a burdensome tax on the 99% in the form of a subway fare increase. Through service cuts, they threaten to keep our families from going to work and our children from going to school. Citizens, hear us out! This could happen to you!"
       G
Let me tell you the story
     C 
Of a man named Charlie
     G  		D
On a tragic and fateful day
           G
He put his card in his pocket,
           C
Kissed his wife and family
        G           D G
Went to ride on the MTA

Charlie swiped his card
At the Kendall Square Station
And he changed for Jamaica Plain
When he got there they said,
"There's been a fare hike."
and he could not get off that train.


Chorus 1:
           G
    Did he ever return,
          C
    No he never returned
            G               D
    And his fate is still unlearn'd
           G
    He may ride forever
               C
    'neath the streets of Boston
             G       D           G
    He's the man who never returned.


Now all night long
Charlie rides through the tunnels
Saying, "What will become of me?
Crying
How can I afford to see
My sister in Chelsea
Or my cousin in Roxbury?" 

    Chorus 1:

[Instrumental]


Now I'll tell you a story
about the Big Dig Tunnel
And the tragic and fateful way
How a crooked highway project
Came to rob every family
Who rides on the MBTA

It was money motivation
No one watched the corporations
The costs grew day by day
In the state house they had meetings
With the banksters they were scheming
How to get rich 'n have their way

Chorus 2:
    The people got burned
    The banks stole what we earned
    But we won't let 'em steal the T!
    We will ride forever 
    'neath the streets of Boston
    Public trains, they oughta be free.

Bechtel did the job
While the poor working slob
Paid for all their mistakes
The highway its leaking
The people be freakin
Since they billed the MBTA

    Chorus 2:

Enough is enough
The people are saying
Don't you take the busses away
Your games aint a-working
And we aint a-takin
No more cuts to the MBTA

    Chorus:

Now you citizens of Boston
Don't you think its a scandal
That people have to pay and pay
While the banks get bailed out 
The riders get sold out
No more cuts to the MBTA


Back to OccupyMBTA
Graphics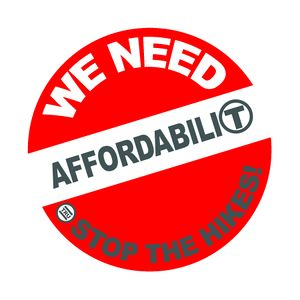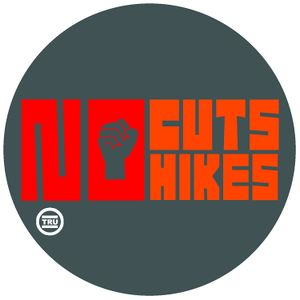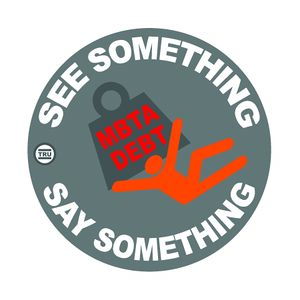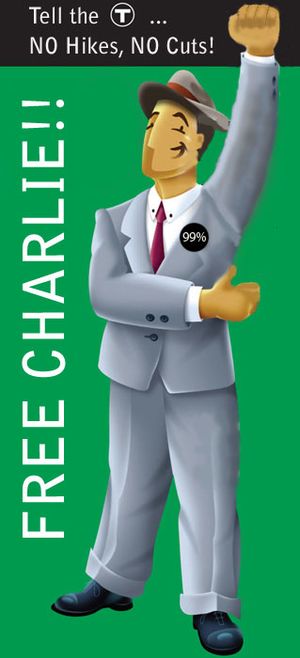 Petition
Link to document in process: draft
Pamphlets
Occupy_the_T_and_Free_Charlie_one_page_Feb_13.pdf
Occupy_the_T_and_Free_Charlie_one_page.pdf
OccupyTFlyer_Quarter_Sheet.pdf
Maillist
A lot of stuff gets emailed to this list. If you like finding your information in endless emails join here. (Hey list boss, please make the archives open (not password protected))
For Designers
MBTA ad templates are
Banner: 18" high by 28" wide
Poster: 22" high by 15" wide
Here are some examples.



Bibliography
State Auditor Joe DeNucci reported [in 2008] that an investment practice intended to help save money actually resulted in a $55 million increase in borrowing interest costs to the Massachusetts Bay Transportation Authority (MBTA)...During the five-year period reviewed by DeNucci's office, the MBTA entered into 12 interest rate swap agreements with various investment banks totaling $1.632 billion. As a result of these swaps, the MBTA received nearly $31.5 million in interest and premiums. However, the MBTA made payments totaling more than $86.8 million for interest costs and termination fees during the same period, resulting in a net loss to the T of $55.3 million. "These rate swaps were highly speculative, risky and complex, and have proved costly to the riders who are paying increased fares and the taxpayers who subsidize the MBTA," said DeNucci.